Restaurants & Bars
Discover the foods and culinary creations of the Riviera Maya and around the world at the incredible collection of restaurants, grills, and open-air eateries at The Fives Beach Hotel & Residences. If you're looking for the best places to eat in Playa del Carmen, you'll discover an indulgent mix of restaurants with global cuisines from Mexico, Asia, France, Italy and Peru here at the hotel.
This resort is a foodie paradise where you can indulge in everything from beachside tacos and ceviche to grilled seafood in the mangroves to modern French bistro fare. Enjoy Tuscan cuisine with sweeping views of the sea at Arezzo. Stop by Oriola Beach Grill for made to order ceviche or indulge the bright flavors of the Mediterranean at Sea Olive. You can enjoy all our restaurants and bars and embark on a culinary adventure that awakens the senses.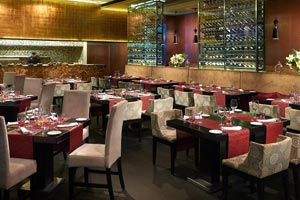 Arezzo
Italian Restaurant
Savor Tuscan style cuisine, fresh-made pastas, stone-baked pizzas, and grilled seafood and meat dishes at our beachfront Italian restaurant with views of the Caribbean Sea.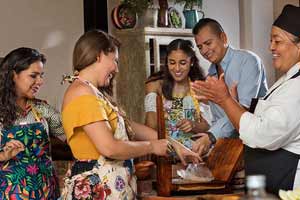 La casa de Rosa
Authentic Mexican
The cuisine at La Casa de Rosa is inspired by the customs and people of Mexico. Experience the aromas, flavors, and colors of authentic Mexican food at this home-style restaurant.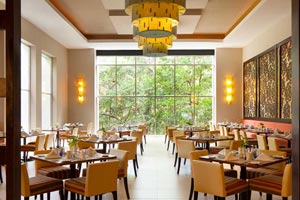 Flavours
World Cuisine
Enjoy global cuisines and international themed buffets for breakfast and dinner at this casual family restaurant with spectacular views of the cenote.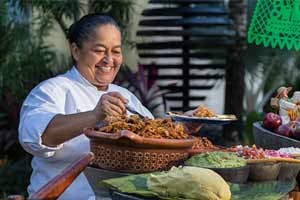 La Taqueria
Gourmet
Enjoy traditional Mexican fare and the best tacos in Playa del Carmen. After a day at the beach, grab a few hand-made tacos with fresh cilantro, salsa and guacamole, and gorgeous views of the Caribbean Sea.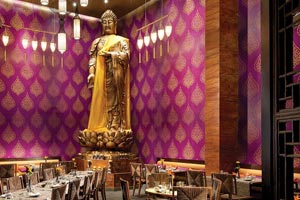 Koh Thai
Asian Cuisine
Awaken your senses with bold Thai flavors at our oceanfront eatery, serving wok-inspired cuisine and Thai classics like green curries and pad Thai noodles with sea views.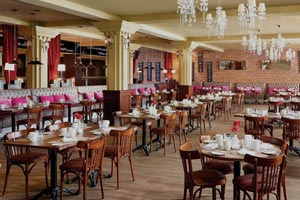 La Brasserie
Bistro Cuisine
This modern bistro serves French classics in a warm, contemporary ambiance with rich wood and brick. Enjoy steak tartare or rack of lamb Bordeaux paired with a French merlot.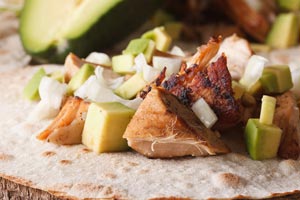 Mestizo
Overlooking the sparkling pool and mangroves, Mestizo is a casual, open-air restaurant with a modern approach to Mexican cuisine and gastronomy.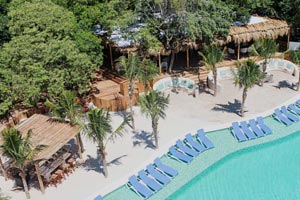 Natura Day
Club and Grill
Escape to a tropical oasis with elevated originality. This poolside hangout features a lounge, grill and bar serving exotic drinks and grilled foods on a wooden deck.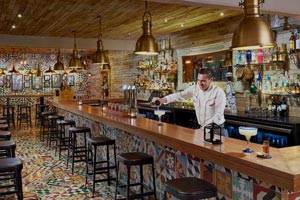 Cantina 1910
classic Mexican cantina
Contemporary design blends with 200-year-old tradition at Cantina 1910. This classic Mexican cantina serves a selection of local and international beer and the best tequila and mezcal in Mexico. Enjoy tequila tastings and sing along to traditional Mexican folk music with our twice a week mariachi band.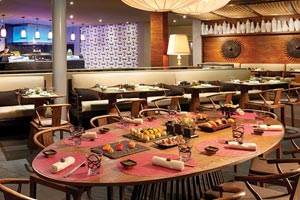 Oka Sushi Bar
Overlooking The Fives Plaza, Oka serves the best sushi, sashimi and tempura in the Riviera Maya. Dine in the artful design of our modern sushi bar or on the outdoor balcony.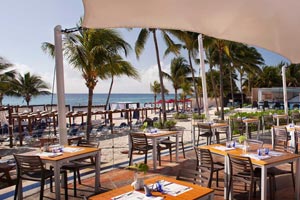 Oriola
Beach Club Grill
Enjoy fresh local seafood, made to order ceviche, fish tacos and salads with views of the Caribbean Sea at our casual beach restaurant with a colorful beachcomber feel.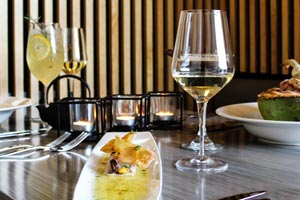 Pisco Nikkei
Cuisine & Raw Bar
Experience innovative Nikkei style of cooking, a fusion of Japanese and Peruvian cuisine. Relax in a Caribbean spirit while you taste the authentic expression of Peruvian Pisco.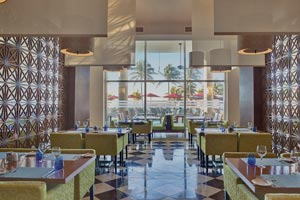 Sea Olive
Mediterranean cuisine
Indulge in the bright flavors of the French Riviera and the coastal cuisines of the Mediterranean and Mexico. Relax on the outdoor terrace with spectacular Caribbean Sea views.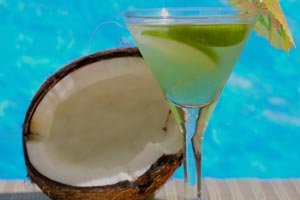 Manglar Bar
This casual outdoor bar is a perfect place to enjoy a cool drink surrounded by the pool. Sip beer, wine and cocktails just a few steps away from the lush tropical forest and local wildlife for an immersive Riviera Maya experience.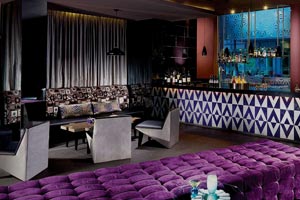 The Gin Bar
Mediterranean cuisine
Cool sophistication and creative gin concoctions await you in this upscale and stylish watering hole. Our bartenders hand-craft all cocktails and pour a variety of premium gins from around the world. Just the place to unwind and enjoy a nightcap on our grand terrace. Simply, the best Gin bar in Playa del Carmen.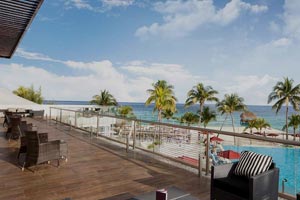 Zky Bar
Zky Bar is the place to enjoy cocktails under the stars. This sophisticated bar and lounge on the second floor offers incredible views of the Caribbean Sea and Cozumel. Sip innovative cocktails, listen to lounge music, or watch sports on the TV screens. Grab one of the lounge chairs on the outside terrace with cocktail service for a relaxing evening.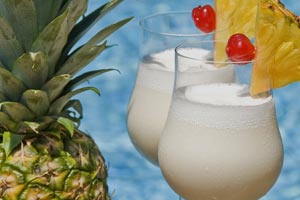 Breeze Bar
Relax with your feet in the cool water at this beachfront bar at the infinity pool. Relax under the shade of large trees and tropical palms or soak up the warm sun while enjoying a chilled signature cocktail, frozen colada or mixed tropical fruit juice. Try the Sea Breeze, Hurricane, or a Frozen Bellini.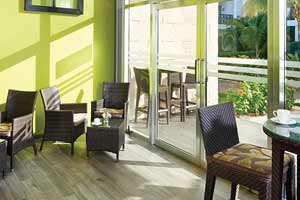 Natural
With its bright, airy atmosphere in the Plaza, Natural is a great spot to chat with family, surf the web or sit back and enjoy a smoothie, frappe, health drink or a home-baked treat. Add vitamins to your smoothies for a blast of energy or to detox.